Chicken-free version of a classic Italian entrée: lemony, garlicky, capery chickpeas served over pasta or mashed potatoes.
Yield: 4-6 servings
Time: 30 minutes
Tools
large, heavy saucepan
wooden spoon
shallow bowls
ladle
Ingredients
1 t olive oil
1 c shallots, thinly sliced
6 cloves garlic, thinly sliced
2 T bread crumbs
2 c vegetable broth
⅓ c dry white wine
½ t salt
pepper
½ t dried thyme
2 c chickpeas, soaked and cooked or canned, drained, and rinsed
¼ c capers
1 t caper brine
3 T lemon juice
4 c arugula (optional)
4 c cooked pasta or mashed potatoes
Directions
Heat oil over medium heat, add shallots and garlic, and sauté until lightly colored, about 5 minutes. Add bread crumbs and toast for 2 minutes, stirring constantly.
Add broth, wine, salt, pepper, and thyme. Turn up heat and let boil for about 7 minutes, until the sauce has thickened slightly and reduced by half.
Add chickpeas and capers and cook another 3 minutes, until heated through. Stir in brine and lemon juice and remove from heat.
Arrange arugula in bowls, top with pasta or mashed potatoes, then cover with chickpeas and broth.
Notes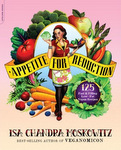 Adapted from Isa Chandra Moskowitz's Appetite for Reduction (read my review).
Buy it:
Help
Abbreviations | Conversions | Cooking tips