Seitan and onions roasted in balsamic vinegar make a quick recipe for a hearty and delicious cold-weather dish.
Yield: 4 servings
Time: 40 minutes
Tools
large bowl
large saucepan
slotted spoon
colander
large, oven-safe sauté pan or Dutch oven
small bowl
whisk
Ingredients
about 2 Q water, half of it cold
1½ pounds large cipollini onions or shallots, whole and unpeeled, but any hairy ends trimmed
1 pound seitan, cubed
2 sprigs fresh rosemary
1 c dry red wine
⅓ c balsamic vinegar
¼ c olive oil
¼ c soy sauce
1 T agave or sugar
⅓ c water
1 T parsley
Directions
Preheat oven to 475. Put the cold water in bowl and set aside.
Boil the other quart of water, add onions, and boil for 30 seconds. Transfer the onions into cold water to cool, then pull off the skins, but leave the root ends on. Place in the sauté pan and top with seitan and rosemary.
Whisk together remaining ingredients except parsley and pour over onions and seitan. Bring to a boil over high heat, then place entire pan in oven. Roast, stirring occasionally, for 25 minutes.
Garnish with parsley and serve.
Notes
It is almost essential to serve this dish with Garlic mashed potatoes and parsnips.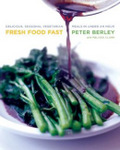 Adapted from the recipe for "Balsamic-Roasted Seitan with Cipollini Onions" in Peter Berley and Melissa Clark's Fresh Food Fast: Delicious, seasonal vegetarian meals in under an hour.
Buy it:
Help
Abbreviations | Conversions | Cooking tips