In the mood for adorable little vegan omelettes that are super easy to make? You've come to the right place!
Yield: 12 mini omelettes
Time: 45 minutes
Tools
12-cup muffin pan
food processor
rubber spatula
Ingredients
14 oz silken tofu, drained
½ c water
2 cloves garlic, minced
1 T olive oil
1 t salt
½ t turmeric
½ c chickpea flour
1 T arrowroot or cornstarch
Directions
Preheat oven to 350.
Combine everything up to the turmeric in the food processor and blend until smooth. Add chickpea flour and arrowroot and pulse a few times, until well mixed.
Oil the muffin pan.
Half fill each cup with batter.
Bake until firm and pulling away from the sides, about 25 minutes.
Let cool for at least 10 minutes before serving warm or at room termperature.
Notes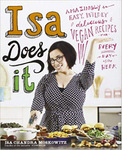 These are great plain, or you can put them on top of an English muffin, and/or top them with sauce, diced veggies, whatever you like. Take a look at omelette ideas for more.
Adapted from the recipe for "Muffin pan mini omelets" in Isa Does It, by Isa Chandra Moskowitz.
Buy it:
Help
Abbreviations | Conversions | Cooking tips