A rich, thick stew made with seitan and lots of good veggies. It's especially tasty served with hot French bread on a cold night.
Yield: 6 servings
Time: 50 minutes
Tools
large frying pan
wooden spoon
large pot
small bowl
small whisk
Ingredients
2 c vegetable stock or water
1 large onion, chopped
2 cloves garlic, minced
2 bay leaves OR 1 t oregano
1 T soy sauce
½ c burgundy or other strong red wine
1 T maple syrup
dash pepper
dash paprika
dash allspice, cloves, or nutmeg
1 pound carrots, sliced
1 pound potatoes, cubed
1 stalk celery, sliced
2 T oil
1 pound seitan, cubed
1 T flour
Directions
Bring stock to a boil. Add everything up to the celery, cover and simmer, stirring occasionally, until potatoes are cooked, 20-30 minutes. Add more stock or water as needed. Remove bay leaves.
Meanwhile, heat the oil, add seitan, and sauté until nicely brown, stirring occasionally.
Transfer a couple T of liquid from the stew into the bowl. Whisk in the flour until dissolved, then add back into the stew. Cook another 3-4 minutes, until thickened.
Stir in the seitan and serve.
Notes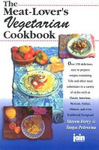 Adapted from The Meat Lover's Vegetarian Cookbook, by Steven Ferry and Tanya Petrovna.
Buy it:
Help
Abbreviations | Conversions | Cooking tips