A search engine for your cookbooks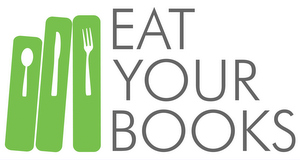 If you're like me, you have over 400 a few cookbooks that are sadly underused in your kitchen. As much as I like browsing through cookbooks, once I had more than 20 or so, it became impossible to make good use of all of them. When I have a particular type of recipe or ingredient in mind, I usually check the indexes of half a dozen likely candidates, and then, if I don't find what I'm after, I turn to the internet. The vast majority of my cookbooks are ignored – at least, they used to be. When I discovered Eat Your Books, I was blown away by its brilliance. It's not a recipe site, yet it is the single greatest thing to happen to cooking since the invention of cookbooks.
Eat Your Books is a huge database which allows users to search through their own personal cookbooks in order to find just the right recipe. Once you've told the site which books you own, you can search them for whatever ingredients you have on hand and/or the cuisine you feel like eating. Sound impossible? I would have thought so too, but it turns out it just took a lot of hard work: the clever folks at Eat Your Books have manually indexed 1.8 million recipes from more than 160,000 cookbooks (and counting). The indexing does not include the actual amounts or recipe instructions, but rather the list of ingredients, so that you can search for the perfect recipe, then find that book on your shelf in order to make it.
For example, let's say you want to make something with eggplant, tomatoes, and carrots. In a cookbook, you can only look up one of those ingredients in one cookbook at a time. But at Eat Your Books, you type eggplant tomatoes carrots in the search box, and you get a list of all the recipes in all your cookbooks that contain all three ingredients. I get 49 results, including Chickpea, tomato, and eggplant stew from 1,000 Vegan Recipes, Eggplant layered with vegetables from How to Cook Everything Vegetarian, and Eggplant provençal from Appetite for Reduction.
Or let's say you want to make something with eggplant but you don't have any tomatoes – just search for eggplant -tomato. I get 560 results, including Sichuan spicy eggplant from Vegan Eats World and Roasted eggplant and sesame pizza from Vegan Planet. You can also search by ethnicity, occasion, course, and lots more, and you can limit searches to a particular cookbook.
Not convinced? Sign up for free and add 5 cookbooks to your shelf, then try searching for something with two or more ingredients. It took me just a few minutes to realize that the $30 annual fee – about the price of one good cookbook – was well worth it. (By the way, I was not paid for this review – I honestly think it's an incredible site, and I can't believe it was around for years before I found it. I regular make recipes that I might never have found, buried as they were in cookbooks I don't usually use.)