Easy delights for everyone
Living food book review
In the mood for something sweet and decadent? You don't have to spend hours baking or end up with your arm aching from beating egg whites; you can make uncooked, dairy- and egg-free desserts with a little help from Jennifer Cornbleet's Raw for Dessert. From fruit to chocolate, there are delicious treats for everyone at your table.
For those new to raw food, the chapter Essential Information will bring you up to speed on raw ingredients and substitutions, equipment, and basic preparation techniques. The Basics chapter offers recipes for various kinds of raw "cream," frostings, and pie crusts. The remainder of the book is divided into recipes by type of dessert:
Fruit desserts
Sorbets, ice creams, and sundaes
Cakes, cookies, and bars
Pies and tarts
Creamy desserts
Candy
Some of the recipes are very simple, like Strawberries in orange juice, Grapefruit granita, and Chocolate-stuffed dates. Others, like Chocolate cupcakes (unbaked, of course), Coconut cream pie, Lemon tart, and Vanilla bean crème brûlée take more work, but for most of them, the most time-consuming part is simply waiting for the dessert to chill in the refrigerator. Either way, they are all healthy and delicious.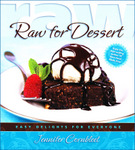 Buy Raw for Dessert, by Jennifer Cornbleet:
Author's website: Learn Raw Food