Recipes, notes and lessons from a delicious revolution
Cookbook review
While it isn't a meatless cookbook, The Art of Simple Food is based on something that is entirely compatible with vegetarianism: eating fresh, local, seasonal, sustainable food. As the author, Alice Waters, has been demonstrating for decades at her restaurant Chez Panisse, if you start with excellent ingredients, you don't need to spend hours making complicated recipes; you can quickly prepare a simple but delicious meal.
The first half of The Art of Simple Food, called "Starting from scratch," consists of cooking lessons and essential recipes. It offers tips on stocking and equipping your kitchen, planning meals, and packing lunches for adults and children; explains basic cooking techniques; and provides a variety of simple recipes:
Four essential sauces
Salads
Bread
Stock and soup
Beans, dried and fresh
Pasta and polenta
Rice
Into the oven
Out of the frying pan
Slow cooking
Simmering
Over the coals
Omelettes and soufflés
Tarts, savoury and sweet
Fruit desserts
Custard and ice cream
Cookies and cake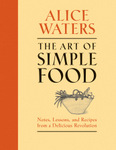 Part II, "At the table," offers step-by-step instructions for slightly more involved recipes, again covering the full range from sauces to side dishes to main courses to desserts. There are recipes for old favorites, like Hummus, Leek and potato soup, and Roasted butternut squash, and there are also plenty of new treats, like Potato celeriac purée, Brussels sprouts gratin, Barbecued onions, and Grapefruit and avocado salad.
With its emphasis on basic cooking techniques and building flavors, The Art of Simple Food offers plenty of information and inspiration for both novice and experienced cooks.
Buy The Art of Simple Food: Amazon.com | Amazon.co.uk