Irresistible recipes for an animal-free diet
Vegan cookbook review
This little gem started out as a zine-style cookbook that authors Tanya Bernard and Sarah Kramer printed for friends and family, then sold online before finding a publisher in 1999. Since then, it's been reprinted over a dozen times and remains a classic. How It All Vegan is an excellent cookbook for newbies, but also includes some creative combinations that will appeal to committed vegans.
The first chapter, Alternatives & Substitutions, explains what to use in place of the typical animal products (eggs, milk, butter, and cheese), and also offers recommendations for overused ingredients like peanut butter, sugar, wheat flour, oil, and salt.
The recipes are divided into 11 chapters:
Milks & beverages – shakes, smoothies, teas, sodas, juices…

Breakfasts – three-grain porridge, banana pancakes, fruit-filled muffins…

Soups & stews – ginger peanut soup, butternut tomato soup, mushroom barley stew…

Salads & dressings – garden medley, sesame noodle salad, roasted garlic dressing…

Sauces & spreads – eazy breezy cheezy sauce, carrot raisin sauce, mock cream cheese…

Side dishes – sweet mash, baked beans, spinach and artichoke dip…

Entrees – chop suey, matzo pizza, potato "cheese" pierogies…

Breads & muffins – applesauce bread, chapatis, raspberry cornmeal muffins…

Desserts – chocolate chip bars, lemon cake, ginger snaps…

Odds & sods – faux feta, faux parmesan, baked sesame fries…

Kids stuff – apple volcano, drowning ants, veggies in a blanket…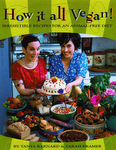 The final chapter, Vegan House & Home, offers recipes for non-toxic, non-food products, including an all-purpose salve, pimple killer, bug repellent, and re-usable baby wipes.
Buy How It All Vegan! by Tanya Barnard and Sarah Kramer: