Firm enough to slice or grate, but so tasty that I usually just cut it into cubes to snack on.
Yield: about 12 ounces
Time: 15 minutes plus time to chill
Tools
2-cup storage container with lid
plastic wrap or parchment paper
food processor
rubber spatula
Ingredients
1½ c raw cashews (dry, not soaked)
2 T refined coconut oil, melted
1 T white miso
1 t cider vinegar
¾ t lactic acid
½ t salt
½ t onion powder
¼ t garlic powder
Directions
Line the container with plastic wrap or parchment paper (this will make it easier to get the finished cheese out) and set aside.
Place cashews in the food processor and grind into powder, 1-2 minutes.
Add everything else and process about a minute, until it starts to clump into a ball.
Pack the cheese into the container, pressing it down into a solid block.
Chill for at least 8 hours.
Remove from the container and slice / cube / grate as needed.
Will keep, refrigerated, for at least a week.
Notes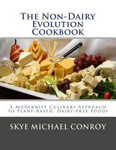 Adapted from the recipe for "Hard Parmesan" in The Non-Dairy Evolution Cookbook – read my review.
Buy it:
Help
Abbreviations | Conversions | Cooking tips | Vegan cheeses