A thick but pourable sauce when hot off the stove, semi-solid and spreadable (shown) after it has cooled for a bit. Either way, it's phenomenal on top of French onion soup.
Yield: about 1½ cups
Time: 15 minutes (plus time to culture)
Tools
medium saucepan
whisk
rubber spatula
Ingredients
¾ c soymilk
¼ c mild vegetable oil
3 T tapioca flour
2 T white miso
1 T dry vermouth or white wine (optional)
1 t cider vinegar
¼ t salt
¼ t dry mustard
¼ t guar gum or xantham gum
1/8 t coriander
Directions
Whisk everything together in the saucepan.
Cook over medium-low heat, stirring slowly but constantly, until it starts to thicken and curdle.
Stir rapidly to turn it into a thick and smooth sauce.
Keep warm for a pourable sauce, or let cool to a spreadable consistency.
Notes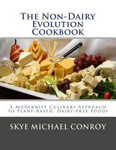 Recipe from The Non-Dairy Evolution Cookbook – read my review.
Buy it:
Help
Abbreviations | Conversions | Cooking tips
More: Vegan cheese recipes