Traditional French onion soup is made with beef broth, but this vegan version is just as flavorful.
Yield: 4-6 servings
Time: 1 hour
Tools
wok, large stockpot, or Dutch oven with lid
wooden spoon
oven-proof bowls (optional)
Ingredients
3 T olive oil
4 large white or yellow onions, thinly sliced
1 t salt
1 T fresh or ½ t dried thyme
½ t dry mustard
5 cups vegetable stock
2 T soy sauce
2 T dry white wine (optional)
white pepper
croutons or stale French bread
about ¾ c Gruyère melt or other Swiss-style cheese
Directions
Heat the oil over medium heat. Add onions and salt and sauté for 10 minutes, stirring occasionally.
Add thyme and mustard, stir well, cover, and turn down heat very low. Let the onions simmer for 35 minutes.
Add stock, soy sauce, wine, and pepper. Simmer for another 10 minutes.
Ladle the soup into bowls and top with croutons and cheese.
If your bowls are oven-proof, place them under the broiler for a few minutes to melt and brown the cheese.
Notes
Also see my recipe for 6-onion soup.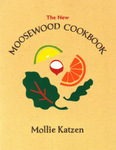 Adapted from Molly Katzen's New Moosewood Cookbook – read my review.
Buy it:
Help
Abbreviations | Conversions | Cooking tips