White beans and black olives combine with various herbs and veggies to make a hearty soup.
Yield: 6 servings
Time: 15 minutes
(plus bean soaking and cooking)
Tools
Dutch oven or large saucepan with lid
wooden spoon
medium bowl
Ingredients
2 T olive oil
1¼ c onion, chopped
1 stalk celery, diced
1 medium carrot, diced
1 t salt
1 t oregano or marjoram
1½ t basil
1 small or ½ a medium zucchini, diced
1 small bell pepper, chopped
3-4 cloves garlic, minced
3 oz tomato paste
4 c vegetable stock or water
1 c dry white beans, soaked and cooked or 2 c canned beans, drained and rinsed
¼ c dry red wine (optional)
black pepper
1 c black olives, sliced
1 T lemon juice
handful parsley, minced
Directions
Heat oil over medium heat. Sauté onion, celery, carrot, salt, and herbs, stirring occasionally, until tender, 8-10 minutes.
Add zucchini, bell pepper, and garlic, sauté 5 minutes.
Stir the tomato paste into the veggie stock, then add to vegetables along with beans, optional wine, pepper, olives, and lemon juice.
Lower heat, cover, and simmer, stirring occasionally, for 15 minutes.
Garnish and serve.
Notes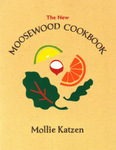 Adapted from Molly Katzen's New Moosewood Cookbook in which it's called White Bean and Black Olive Soup – read my review.
Buy it:
Help
Abbreviations | Conversions | Cooking tips