Vegetarian recipes from the world's healthiest cuisine
Vegetarian cookbook review
The Mediterranean region is famous for its delicious and healthy, olive-oil based cuisine which has been credited with everything from lower rates of cancer to improved breathing.*
With more than 500 recipes, the wonderful Mediterranean Harvest cookbook, by Martha Rose Shulman, includes a huge variety of dishes from Spain, France, Italy, Greece, and the Middle East, and I love the way it's organized. I usually go shopping to see what looks good and then skim through cookbooks to decide what to make, rather starting with recipe and a grocery list. And then of course after shopping, I usually have a primary ingredient, such as squash or artichokes, and so I tend to gravitate toward cookbooks that index recipes by ingredient.
Mediterranean Harvest does that, but it also goes one step further: it groups similar recipes from different regions and countries. For example, if I just bought a beautiful bunch of spinach or chard, I might make Ligurian artichoke and greens torta (Italy), mushrooms and greens tart (France), or greens and sweet onion pie (Greece). If I have some beautiful eggplant and tomatoes, I can choose between Imam bayildi (Turkey), stewed eggplants and onions (Italy), or eggplant, tomato, and chick pea casserole (Middle East).
The chapters are divided as follows:
Aperitifs
Breads, pizza, and panini
Sauces, dressings, and condiments
Little foods: starters, snacks, meze, and more
Soups
Eggs and cheese
Pasta
Savory pies and gratins
Vegetables and beans
Rice, couscous, and other grains
Sweets and desserts
There are so many good recipes that while paging through the book writing down the ones I wanted to try, my list was getting so long it was easier to just put page ranges. The one thing that bothers me a bit is that the author often mentions meat accompaniments; though all of the recipes are vegetarian, she regularly says things like "this would be good with fish," which can be a bit jarring. Other than that, Mediterranean Harvest is pretty much perfect, and it's definitely one of my favorite cookbooks.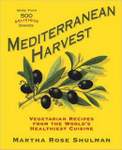 Buy Mediterranean Harvest:
Amazon.com | Amazon.co.uk
Author's website: Martha Rose Shulman