Meat-free, egg-free, dairy-free dishes from the healthiest region under the sun
Vegan cookbook review
The Mediterranean diet is widely considered one of the heart healthiest in the world (source: Mayo Clinic). Traditional dishes from Italy, Greece, Morocco, and the other countries that surround the Mediterranean Sea are full of vegetables and fruits, healthy fats, and a huge variety of herbs and spices, making this diet as delicious as it is wholesome. Unfortunately, cheese and eggs are also prevalent, which means that vegans typically have to avoid or adapt many recipes. Not any more.
The Mediterranean Vegan Kitchen is a compendium of vegan recipes from Europe, North Africa, and the Middle East. But what's really brilliant is not just that these recipes contain no animal products, but that they are traditionally vegan, rather than adapted: no substitutes, no omissions, just healthy and delicious food.
The Mediterranean Vegan Kitchen includes more than 300 recipes divided into seven chapters:
Appetizers – caponata, sweet and sour onions, marinated mushrooms…

Soups – Sicilian barley, Tunisian chickpea, Provençal wheat berry-bean…

Salads – fennel-orange-olive, mushroom and frisée, bread salads…

Pasta, rice, and other grains – couscous, gnocchi, orzo pilaf…

Vegetables and legumes – Spanish-style green beans, Tuscan bean dip, baked onions, Provençal spinach gratin…

Breads – sun-dried tomato, black olive, quick-rise focaccia….

Desserts – strawberry sorbet, poached apples, plum tart…
Busy cooks will especially appreciate Meals in minutes: "suggested weeknight menus ready in less than an hour" that contain at least four compatible recipes and are divided by season (spring/summer and fall/winter) as well as by number of people (four, four to six, and six).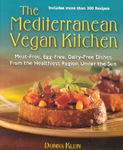 All in all, a wonderful cookbook for anyone who likes great food. The heart-healthy aspect is just a bonus.
Buy The Mediterranean Vegan Kitchen, by Donna Klein: