While vegetarian cuisine is limited only by your imagination (and dietary restrictions), there are certain dishes which show up over and over again. Here are my favorite recipes for these vegetarian classics.
Main Dishes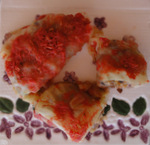 Cabbage Rolls
Normally filled with a mixture of ground beef and rice, cabbage rolls are a staple in Eastern Europe and a favorite in many other countries. Try these vegetarian cabbage rolls stuffed with vegetables for an equally tasty main course.
Eggplant Parmigiana / Parmesan
This classic vegetarian dish is a perfect main course served alongside/atop plain pasta.
Falafel
Falafel are crunchy chick pea nuggets from Lebanon that can be baked or fried.
Fettuccine Alfredo
Alfredo is a rich and creamy Italian sauce, usually served over fettuccine.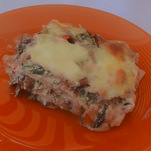 Gardenburger®
Have you ever eaten a Gardenburger®, the very first veggie burger? Now you can make it yourself.
Lasagne Florentine
Spinach lasagna, sometimes called lasagne Florentine, is a classic vegetarian dish made with a creamy white sauce, cheese, and vegetables.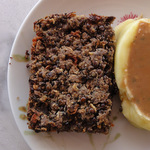 Lentil Loaf
A healthy, delicious veggie "meat"loaf made with lentils.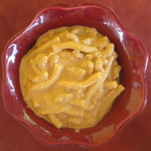 Macaroni and Cheese
Finally perfected my vegan macaroni and cheese, comfort food extraordinaire.
Pizza
Making homemade pizza is one of the best and most creative ways of proving that meat is not a necessary part of a human's diet. Also see my pages on pizza dough and toppings.
Portobello Mushroom Sandwich
In terms of texture, portobello mushrooms are probably the closest vegetarian alternative to steak. While you won't be able to fool meat eaters with a grilled portobello mushroom sandwich, you might convince them that a great meal doesn't necessarily have to include meat.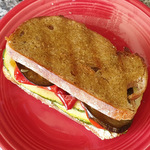 Roasted Veggie Sandwich
A roasted veggie sandwich may sound simple (i.e., boring), but since roasting vegetables brings out so much flavor, even non-vegetarians will be delighted.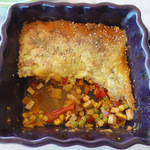 Shepherd's Pie
This vegetarian shepherd's pie recipe is a simple yet delicious lambless version of the real thing.
Spanakopita
A classic vegetarian recipe from Greece: rich and delicious spinach-cheese pie.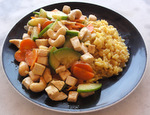 Stir-Fry
If you're looking for an easy way to make up a healthy meal out of leftover vegetables, a vegetarian stir-fry is the way to go.
Stuffed Shells
Pasta shells stuffed with cheese, topped with tomato sauce, and baked until bubbly.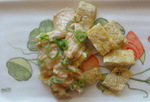 Tofu
Tofu is commonly used in vegetarian cooking thanks to its high protein, low fat, and flexibility of use. Here are just a few of the many different ways to enjoy tofu.
Tostadas
Tostadas are kind of like the Mexican equivalent of pizza, with beans, cheese, and guacamole piled on top of a tortilla crust.
Veggie Burgers
These vegetarian/vegan burgers, made with lentils, are healthy, low-fat, and delicious.
Veggie Sandwich
Whether you're on the run or just don't feel like cooking something, a vegetarian sandwich is just the thing: quick, easy, and as healthy as you care to make it.
Wheat Meat and Potatoes
The ultimate in hearty, down-home cooking: (wheat) meat and potatoes.
Soups, Salads, and Sides
Alfredo Sauce
A rich and creamy Italian sauce, usually served over fettucine. It's also delectable in spinach lasagna and with ravioli.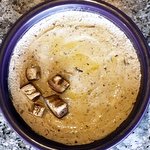 Baba Ganouj
A Middle Eastern dip made of roasted eggplant. Delicious!
Barley Soup
This barley soup recipe from Sicily is a perfect vegan alternative to chicken soup when you're feeling under the weather.
Caesar Salad
Yes, it is possible to make vegetarian Caesar salad, and with this recipe you'll never even miss the anchovies.
Caprese
Tomatoes, mozzarella cheese, and basil can be sliced into towers or diced into salad.
Cornbread
Hot cornbread is absolutely delicious topped with butter or cream cheese.
Corn Chowder
An extremely rich and filling chowder.
Crudités
A platter of crudités typically consists one or more types of raw vegetables served with one or more dips. These can be served as an appetizer, at a buffet, in place of a salad – the sky is the limit. Here are some ideas for interesting crudité platters.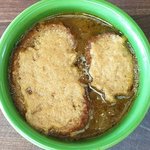 French Onion Soup
Traditional French onion soup is made with beef broth, but this vegetarian version is so flavorful that meat-eaters will never know the difference!
Garlic Mashed Potatoes
These aren't much more work than regular mashed potatoes, but they have a lot more flavor.
Gazpacho
This cold, raw soup is full of flavor.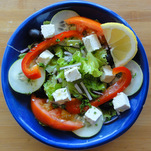 Greek Salad
Kalamata olives and feta cheese really spice up this otherwise simple salad.
Hummus
An Eastern Mediterranean dip, very common in Lebanon, Egypt, and a number of other countries. A heavenly blend of chick peas, garlic…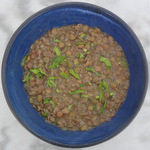 Lentil Soup
A simple soup recipe is the best way to enjoy the great taste of lentils.
Minestrone Soup
This classic Italian soup is always vegan, as long as you leave off the parmesan cheese.
Potato Leek Soup
There's something about the combination of potatoes and leeks in a creamy soup base – it's a terrific comfort food.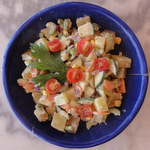 Potato Salad
This sort of "everything but the kitchen sink" potato salad is perfect for a picnic or buffet.
Roasted Chestnuts
Roasted chestnuts are such a traditional winter treat that there's a song about them – sing along as you roast your own chestnuts.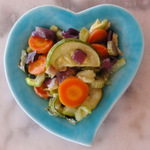 Roasted Vegetables
Roasting vegetables brings out all kinds of flavor and depth. This recipe is just a guide – feel free to add/subtract/substitute any of the vegetables.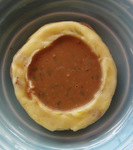 Sage Gravy
A simple, traditional gravy that vegans, meat eaters, and everyone in between will love.
Salad
There are probably millions of salad possibilities, even for what you might think of as a simple mixed salad. Here are some typical ingredients and a few popular variations.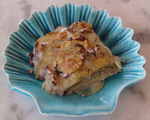 Scalloped Potatoes
Thinly sliced potatoes baked to perfection in a savory, creamy, dairy-free sauce.
Spinach and Artichoke Dip
This is a lovely dip, easily made vegan and served warm.
Vegetable Soup
Vegetable soup is one of those things that don't really need a recipe – you can customize the ingredients to your heart's content. This recipe is really just a set of guidelines to give you some ideas about what to include.
Breakfast
Bran Muffins
Here is a simple recipe for bran muffins – a delicious and very healthy breakfast item.
Bread Pudding
Simple bread pudding is the ultimate in comfort food, not to mention a great way to use up stale bread.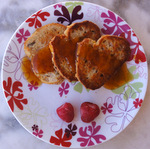 French Toast
You might not think it's possible to make delicious French toast without eggs – but you'd be wrong. Not only is it possible, it's unbelievable quick and easy. But don't take my word for it – taste it for yourself.
Granola
This crunchy granola has enough protein and fiber to get you through the whole day!
Pancakes
Pancakes are, for me, the ideal breakfast. They're quick and easy, and customizable to everyone's individual taste. Also see my pages on pancake/waffle mix and pancake/waffle ideas.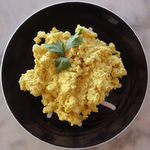 Scrambled Tofu
Although scrambled tofu doesn't taste quite the same as scrambled eggs, it's easy to make and can take any of the additions and toppings on my omelette ideas page.